The Significance of Acquiring Perspectives
In this lecture, after a self-introduction session, participants deepened their learning about "Dialogue Studies".
The lecture was held by group dialogues and focused on education-related cases around the emergence of AI, as well as cases based on actual court cases.
A major feature of this year's lecture was that materials were distributed in advance, and the lecture was conducted on the premise that each individual had already studied the basic logic of "Dialogue Studies" in advance (flipped classroom).Thus, lecture was developed in a style where only exercises were conducted, and the content was more focused on active learning.
The second case, based on an actual court case, required discussion from multiple perspectives, including the plaintiff's side and the defendant's side.Participants were able to realize the importance of having diverse viewpoints on issues that do not have a single answer and for which various solutions are possible.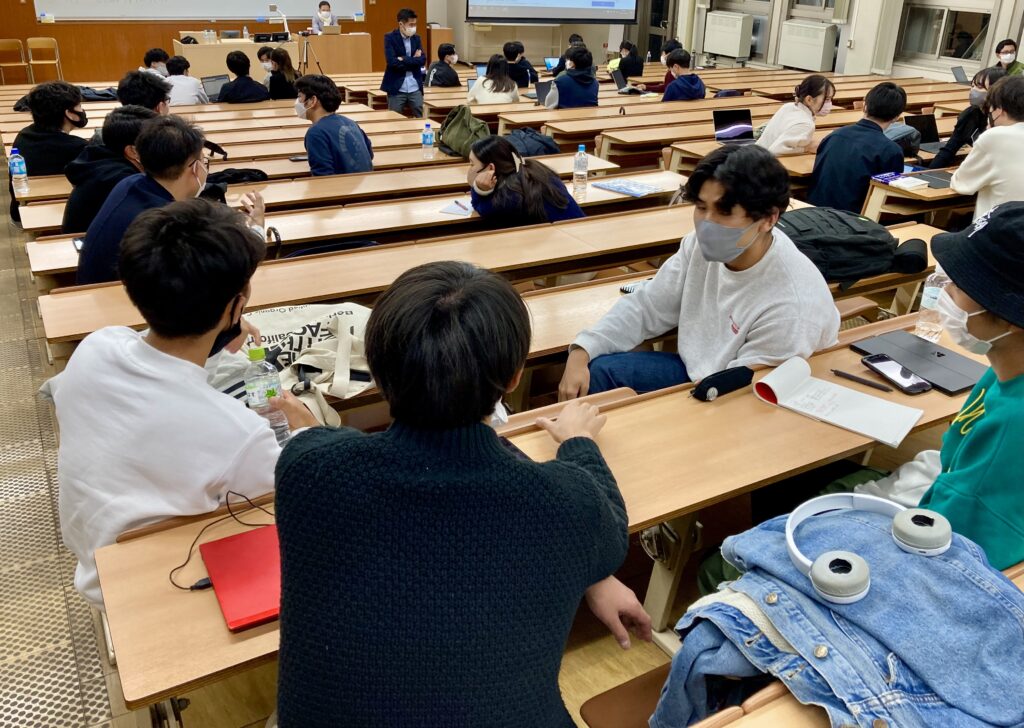 Discussion with a leader – Mr. Takahiro Fushimi, Founder of ICHI COMMONS
Mr. Fushimi, who participated in the "Fukuzawa Yukichi Civilization Institute (Bunmeijuku)" as a first-year university student and is currently the president of ICHI COMMONS, visited us.「Students asked many questions to Mr. Fushimi, who continues to take action to contribute to solving social issues with his life's purporse of "making everyone's life more convenient.
「He answered, "Think about your own definition of a social issue.It is only as students who have the time that can make an impact."」His words seemed to have had a great impact on the students who will be taking on the challenge of PBL (Project Based Learning) in this semester.