Session by Bvlgari Japan
We were pleased to welcome again this year Bvlgari Japan, a company that endorses and supports negotiation studies and leadership education.At the beginning of the session, Mr. Vincent Reynes, President of Bvlgari Japan, spoke about the importance of entrepreneurship in today's world.It was impressive to see the students listening to the lecture with great interest, thinking about their own dreams and future.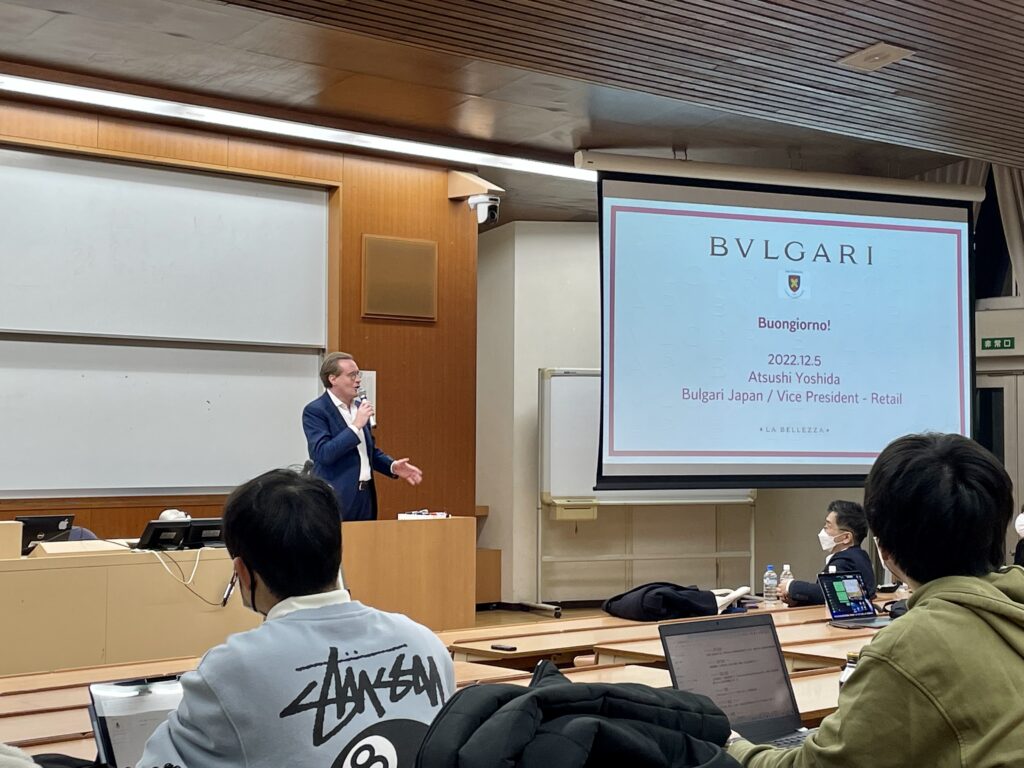 After Mr. Jun Yoshida, Vice President of Retail Division, who is active at the forefront of the luxury market, explained the mission of Bvlgari and his own career, the students were asked to work on two cases.Both cases were highly challenging, as they were cases that Mr. Yoshida had actually experienced at the COVID-19 pandemic.
After about 10 minutes of discussion on how to respond to and negotiate the issues, several groups presented their conclusions, which were followed by feedback from Mr. Yoshida.Mr. Yoshida was surprised to hear that some of the students' presentations were "excellent ideas," and although the time was short, the discussions were of high quality.Mr. Yoshida also gave specific details of actual measures and negotiations he had conducted, providing a valuable opportunity for the students to hear the real voices from the business frontlines.
At the end of his presentation, he talked about the characteristics of negotiations caused by the COVID-19 that he felt based on his own experience. Especially those negotiations that arise from during the pandemic, such as the one handled in this case study, should in aim for a mindset with "win to live together innovatively"He concluded by saying that under such circumstances, entrepreneurship is necessary, as President Reynes mentioned at the beginning of his presentation.